---
SPOTTED: Ameriie ROCKS THE MIC & PARTIES In Dubai
Posted: 25 Apr 2013 09:25 AM PDT
R&B crooner Ameriie was spotted performing in the UAE in Dubai recently. See pics of the "Touch" singer on stage and by the pool inside...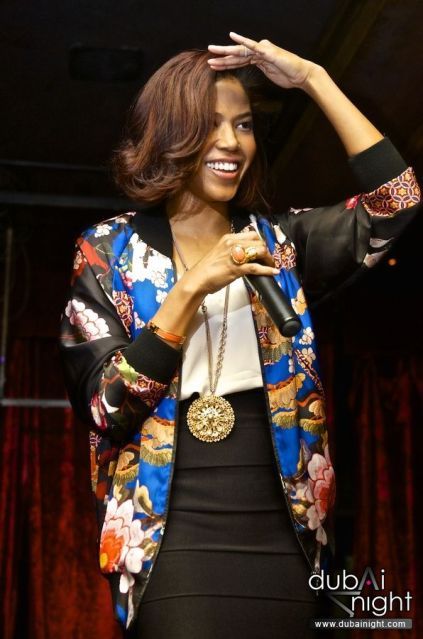 While her fans in the States await her Cymatika disc, Ameriie has been doing international shows and taking inspiration from her travels.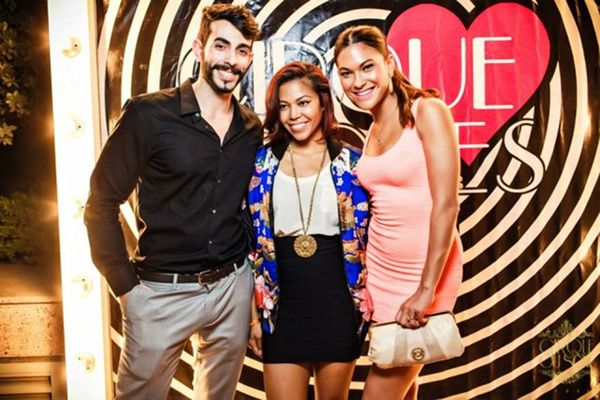 The "1 Thing" singer, who's been married for nearly two years to husband/manager Lenny Nicholson, recently jetted of to Dubai to perform a few of her hit singles.
Though she hasn't released any new music since last year's buzz single "Every Time", we're sure the international fans at Cirque Du Soir were happy to see her. They love YBf artists even when America doesn't pay much attention to them..
We're loving her auburn hair.
And before she hit the stage, she chilled poolside with international booker and party promoter Fred Frenchy. Fun times. Glad to see she's still doing her...
Photos via Dubainight/Instagram
CHOCOLATE FOR YOUR MORNING COFFEE: OKC Baller Serge Ibaka Gets SHIRTLESS & MAD SEXY For New Photoshoot
Posted: 25 Apr 2013 08:27 AM PDT
Well GOOD MORNING. OKC Thunder baller Serge Ibaka is giving us some chocolate for our morning coffee today with his brand new photoshoot. We've got what the NBA baller is serving in his new shirtless promo shoot...
He's 23 and taken. But we can still look.
Congolese-Spanish basketball player Serge Ibaka is busy with the NBA playoffs as his team is ranked #1 in the Western Conference. But he's found time to give us some sexy in a brand new promo shoot.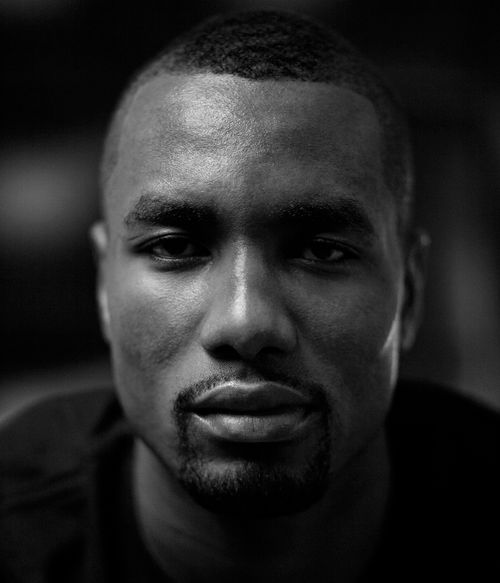 He may be a little pissed that he was snubbed for the second year in a row for Defensive Player of the Year, but he can be our defensive player anytime. Well, if Keri Hilson allows it. He and his singer/songwriter boo have been dating for a few months now, even taking a sexy mini-vacay together to Cabo for Valentine's Day & during the All-Star break.
By the way, the 6'10 Serge, who played for his country Congo in the Summer Olympics, started his own company called Avec Classe--which focuses on the classy lifestyle of himself and the people around him. And he speaks 5 languages.
Could he be any sexier?
Photos by Julian Ungano & Tommy Agriodimas (UNGANO & AGRIODIMAS PHOTOGRAPHY)
FASHION DIVAS: Beyonce STANDS IN THE SUN For Brand New H&M Commercial + A$AP Rocky GOES YACHTING For "GQ", Explains His "F*CK IT" Life Philosphy
Posted: 25 Apr 2013 07:47 AM PDT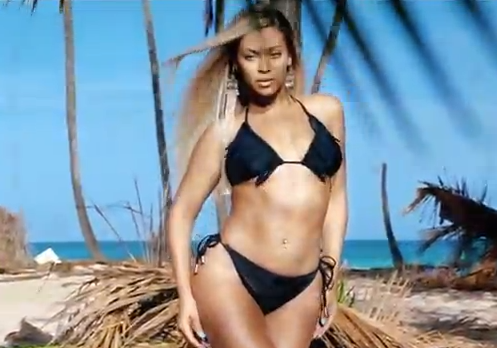 Beyonce previews her "Standing In The Sun" song in her new H&M ad. Watch the commercial inside and see A$AP Rocky give his philosophy about life and things he doesn't understand in the May issue of GQ.
In her latest ad campaign for H&M, Beyonce treats her fans to a preview of her song "Standing In The Sun" written by Sia and Greg Kurstin.
While starring as "Mrs. Carter" in the Jonas Akerlund-directed video, Bey models several bikinis as her banging bronzed bod get kissed by the sunlight. Grab your fedoras and bikinis because it's about to get fabulously tropical.
Watch the new commerical here:
Also.....
Beyonce posed with Salma Hayek (who partnered with her and Gucci for the "Chime For Change" Global Initiative) backstage at her Paris concert last night.
And on magazine racks.....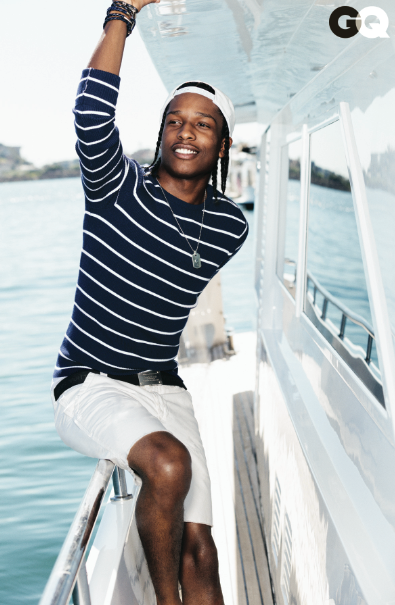 Controversial rapper A$AP Rocky, who's currently trekking it with Rihanna on her Diamonds World Tour, modeled a few choice pieces for summer 2013 in the May issue of GQ. The cocky fashion divo rapper, who commonly describes himself as "pretty", told the mag, "I wanted to model when I was younger. I was always into clothes and shit."
He also gave an arrogant shout-out to menswear blogs who post pictures of him. "I'm the man on those things. I don't really look at them. Well, I guess I do, but only when I'm looking at myself. I inspire me."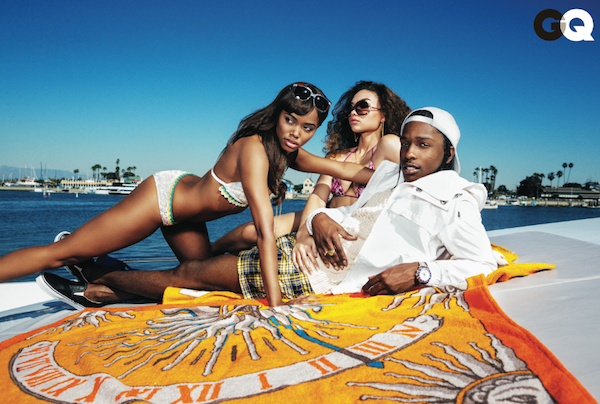 We wonder if he was offended that the stylist for the shoot paired him with a brown skinned girl wearing pinkish red lipstick. You know how A$AP feels about the brown girls and those color lipsticks.
Also, he gave a charming interview to GQ where he said anytime he doesn't understand something in life, his philosophy is to just say "F*ck It." Let's all follow him on Twitter and Instagram so we can stay inspired. But all jokes aside, we're loving A$AP's music. Dude is talented.
First Picture (Sweater by Ralph Lauren Purple Label / Shorts by Polo Ralph Lauren / Belt by Louis Vuitton / Cap by Stampd Los Angeles. Bracelets by Miansai / Necklace by Gucci)
Second Picture (Jacket by Tom Ford / Sweater and shorts by Gant Rugger / Sneakers by Vault by Vans / Rings by Cartier / Watch by Rolex. Cap by Stampd Los Angeles / Towel by Hermès)
Watch BTS footage from the shoot and A$AP's "F*ck It" philosophy:
GQ Video/Photos via Jim Dzuira/Ben Watts
Lil' Scrappy & Erica Dixon THANK Gawwd For Freedom + Married Rapper Layzie Bone IGNORES Paternity Suit From ALLEGED Baby Mama!
Posted: 25 Apr 2013 05:26 AM PDT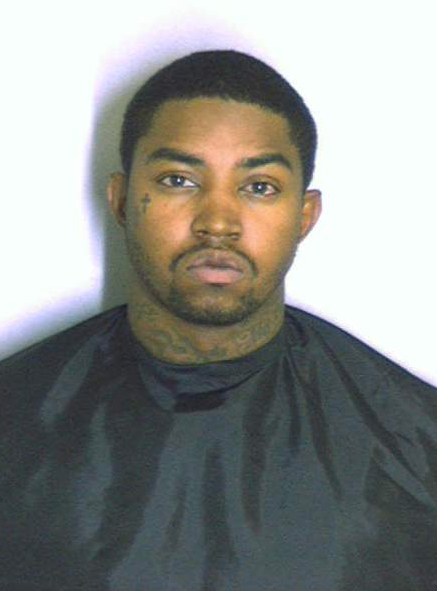 Rapper Lil' Scrappy was freed from jail yesterday and he and his fiance Erica Dixon are thanking the heavens. Get the deets on his release inside and find out about married rapper Layzie Bone and his baby mama drama.
It looks like the gods obeyed the words (and T-shirt) of "The Queen Of The South" Mama Dee and FREED Scrappy yesterday! We told you earlier that Scrappy turned himself in two days ago based on a warrant issued for his arrest over some cold pee.
Now, Scrappy says that the warrant was bogus and a judge granted his lawyer's motion to have the warrant recalled. But Scrappy isn't out of the woods just yet. He'll have to show up in court on May 16 to deal with this and his other legal issues.
In the meantime, his fiance Erica Dixon praised God for his release.....
And so did Scrappy....

Let's just "pray" he keeps his urine clean and warm this time around.
And in baby mama drama news.....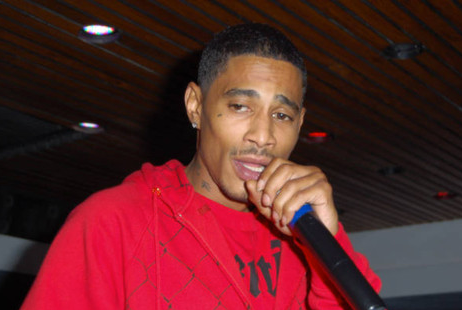 A woman has filed a paternity suit claiming that the very-married rapper Layzie Bone of Bone-Thugs-N-Harmony is the father of her one-and-a-half year old child. The plaintiff told TMZ that she filed the suit in October of 2012 and Layzie Bone hasn't responded at all!
And since his Layzie self has not responded to the suit, the court could potentially enter a default judgement and declare him the father! SMH. Either way, it's best he AND his wife make a decision about how their going to handle this situation because penalties and fines are continuing to mount!
Teyana Taylor SHARES ADVICE From Mrs. Carter + Beyonce DEBUTS "Grown Woman" In Paris, BANS Photographers From "The Mrs. Carter Show"
Posted: 24 Apr 2013 05:28 PM PDT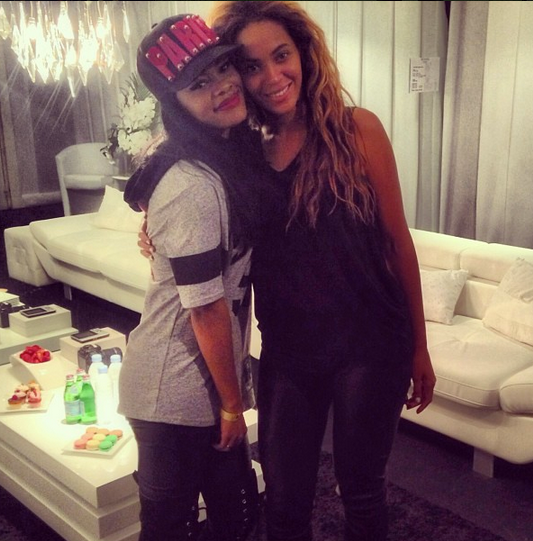 Teyana Taylor checked out "The Mrs. Carter Show" during its tour stop through Paris tonight. See the words of wisdom the Queen Bee passed on to Teyana inside and find out why she banned photographers from her concert....
Teyana Taylor, who revealed that her debut disc with G.O.O.D. Music will drop this summer, partied in the City of Lights tonight with the Queen Bey at "The Mrs. Carter Show." She tweeted, "Queen Bey. Carried. Snatched. Slayyyeeedddd."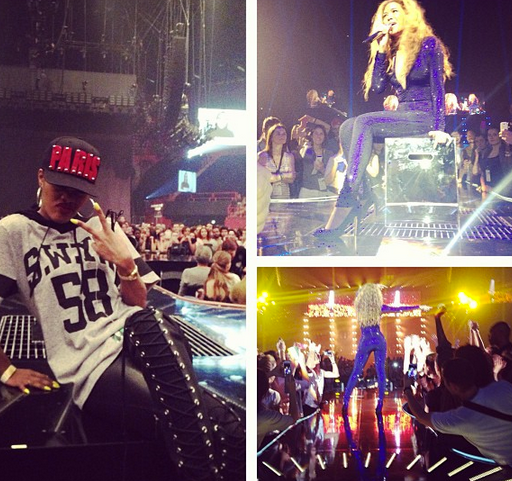 During their conversation backstage, Bey gave Teyana some words of encouragement that she decided to share with her followers on her Instagram account.
Left the show in tears... Had a lil heart to heart wit The Queen Bey after her show. She told me how proud of me she was, & she knew i would be a star since the first time I taught her my Harlem moves lol i told her im not impressed with me YET but my season is coming soon she checked me and said "ya season is NOW & When u stop worrying about what haters got to say, you'll start to notice that the RITE people are rooting for you. I am, I see you. I'm here for you whenever u need an ear"- Beyonce ❤❤ I love you Bey thanks for all of ur kinds words.
In other Bey news, there will be no more flash photography at The Mrs. Carter Show! Due to a series of unflattering photos, Mrs. Carter has stopped issuing press credentials for her world tour. Any interested media outets will have to go through her own photographer, Frank Micelotta, who's been tasked with taking ALL official photos and distributing them to the press after the show. Of course.....she'll still alllow fans to keep their cell phones. #truediva
BONUS:
During her show tonight, Beyonce debuted her "Grown Woman" single. Penned by The Dream and written by Timbaland, she performed the song in a Kenzo dress, towards the end of her sold-out show at Palais Omnisports de Paris-Bercy.
Photos via IG
LaLa Anthony FLEXES Her ABS Of STEEL During Stroll Through NYC
Posted: 24 Apr 2013 04:17 PM PDT
LaLa Anthony was spotted out in NYC showing off her rock hard abs today. See her pics inside....
TV personality and reality star LaLa Anthony was spotted posing for pics with her fans in New York earlier today. As she walked through the city, LaLa turned heads in a chic pair of white skinny jeans and a midriff top.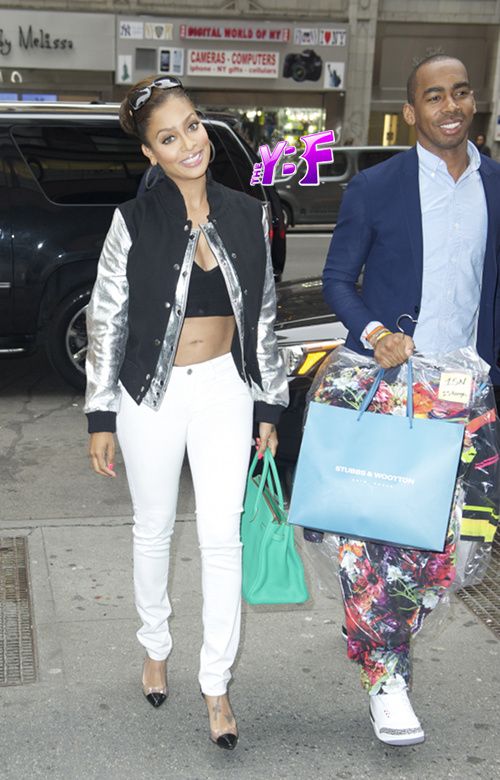 For fans wondering how Lala (shown above with stylist Jason Bolden) sculpted her body, she has The Game's 60-Day fitness plan to thank. She tweeted, "Filming today. 60 days of fitness paying off. Pls join me. Let's do this together!!!"
Looking good LaLa!
Photos via IG/Nitro News
Rihanna DINES OUT In NYC, MAKES IT RAIN On STRIPPERS + Chris Brown CUSTOMIZES His Lamborghini
Posted: 24 Apr 2013 03:44 PM PDT
Rhianna dined out with friends in NYC last night. See the candids inside as well as pics of Chris Brown's customized Lamborghini.
Last night, Rihanna was snapped leaving dinner at Phillipe Chow's restaurant in NYC.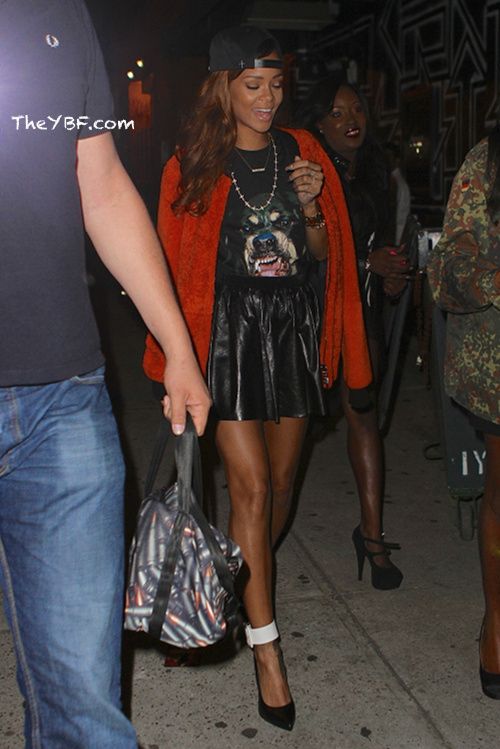 After dinner, she and her pals headed out to Greenhouse Nightclub, the same bar where Chris Brown and Drake brawled a few months ago.
And while Rihanna was partying in NYC......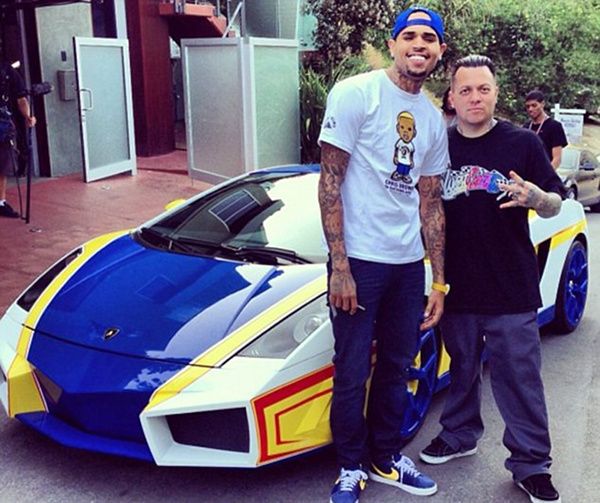 Chris Brown was tearing down the streets of LA in his customized Lamborghini courtesy of West Coast Customs' Ryan (shown above).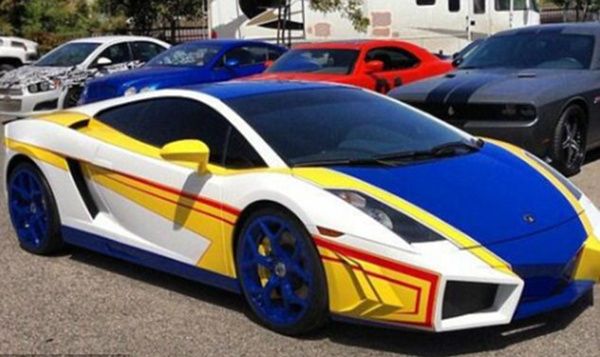 Chris debuted his new color paint job last night when he arrived at the Supperclub. He partied until 3am with some of his celebrity friends and tweeted, "Love LA!!! #SUPPERCLUBTUESDAYS turn up was real tonight @wizkhalifa @Tyga @TheRealTank @NeYoCompound #0HB!!! Have fun wit ya life."
BONUS:
Sunday night, Rihanna was spotted at King Of Diamonds strip club in Miami where she reportedly spend $8,000. That's how you "Pour it up, Pour it up"!
Photos via Splash/Twitter
SNEAK PEEK: Gabrielle Union, Kelly Rowland, Kerry Washington & Halle Berry On PEOPLE's 2013 World's Most Beautiful List
Posted: 24 Apr 2013 02:39 PM PDT
Gabrielle Union, Kelly Rowland, Kerry Washington And Halle Berry are among the celebs chosen by PEOPLE Magazine for the 2013 World's Most Beautiful List. See a sneak peak inside...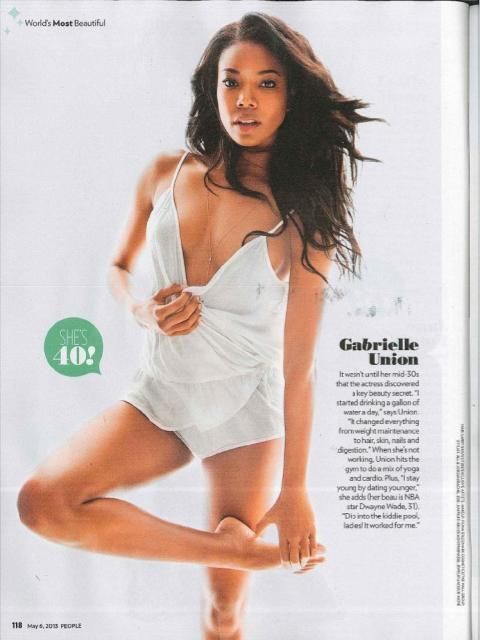 Gabrielle Union is among the beautiful brown chicks who grace the pages of People Magazine's 2103 World's Most Beautiful List. The star of BET's Being Mary Jane, tweeted a pic from behind the scenes of her shoot where she celebrates turning 40. She told the magazine that she's "the woman I've always wanted be."
Kelly Rowland is also on the list where the magazine touts her natural beauty. Ms. Kelly went makeup-free for her photoshoot and played up her gorgeous skin. She recently revealeved that Beyonce and Michelle Williams will make appearances on her upcoming Talk a Good Game disc. She said,
"I did a collaboration with Beyonce and Michelle. It's a song produced by Harmony Samuels.... It just feels so good and it's so soulful and the girls voices sound incredible on it."
Kelly's album drops this summer.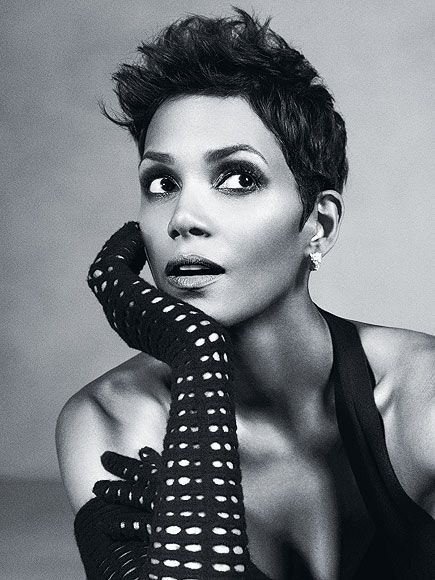 Naturally, Halle Berry made the list for the umpteenth time. The expectant mother is currently reprising her role as Storm in X-Men: Days of Future Past.
And "Scandal" star Kerry Washington helps round out the list. Fans of the actress will be able to check her out on the big screen when Peeples hits theatres on May 10.
Go behind the scenes of Gabrielle's shoot here.
Photos via IG/Nini Nunos/Andre Macpherson/Trunk Achive
Mariah Carey Has PAJAMA PARTY With Nick Cannon & Dem Babies, FOILS Secret Plot To REPLACE Her On "American Idol"??!!
Posted: 24 Apr 2013 12:07 PM PDT
Mariah Carey and Nick Cannon had a pajama party with Dem Babies recently. See the adorable photos inside and find out about an "alleged" plot to replace Mariah on "American Idol" with Jennifer Lopez.
Mariah Carey and Nick Cannon tweeted some adorable pics from their recent pajama party with their twins Monroe and Moroccan. The family wore matching blue and pink pajama sets and spent the evening eating popcorn and watching movies. Mariah tweeted , "Hurry up Daddy!" (Ms Monroe, Roc Starr & Mommy Mimi wait patiently watching Shrek Box Set)
And proving that the apple doesn't fall far from the tree, Mariah tweeted about Monroe's love of nice shoes, "Ms. Monroe raids mommy's shoe closet, slippers by agent provocateur (not yet 2 years old!)"
But outside of the safety her home provides, Mariah Carey and her job as a judge on "American Idol" has reportedly been under attack due to a secret plot by the show's producers to replace her with former "AI" judge Jennifer Lopez. According to a scandalous article by The Hollywood Reporter, sources told THR that Idol producers hoped for a mid-season rating jaunt by replacing Mimi with J Lo.
The plot was reportedly foiled when Mimi's high powered legal team threatened to sue if she was replaced. Now that the -ish has hit the fan, denials are coming from everywhere. A Fox spokeswoman told THR "This is just another ridiculous Idol judge rumor, likely started by talks of Jennifer performing on the finale." Meanwhile, "AI" producer Nigel Lythgoe told THR: "I have not been included in any conversation regarding replacing Mariah with Jen this season."
So for now....Mimi is safe. But do you think she's a good judge on "AI"?
Photos via Instagram
Fantasia STROLLS Through TIMES SQUARE, Sings "Lose To Win" On GMA
Posted: 24 Apr 2013 10:55 AM PDT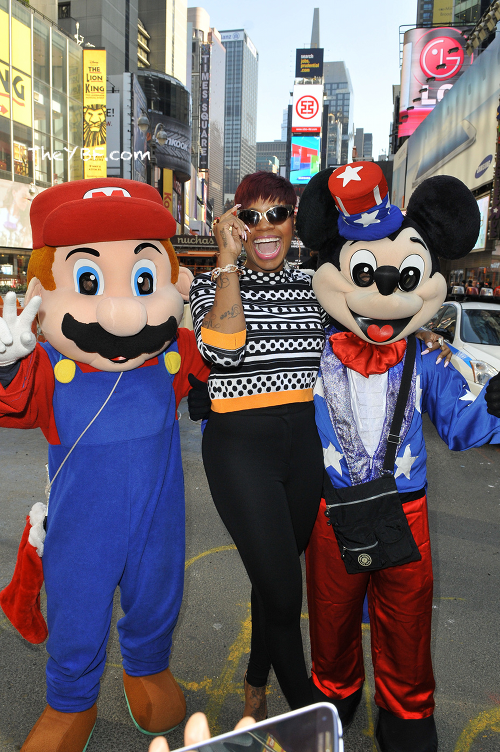 Fantasia was spotted in Times Square this morning where she taped appearances on "GMA" and VH1's "Big Morning Buzz Live" See the photos inside....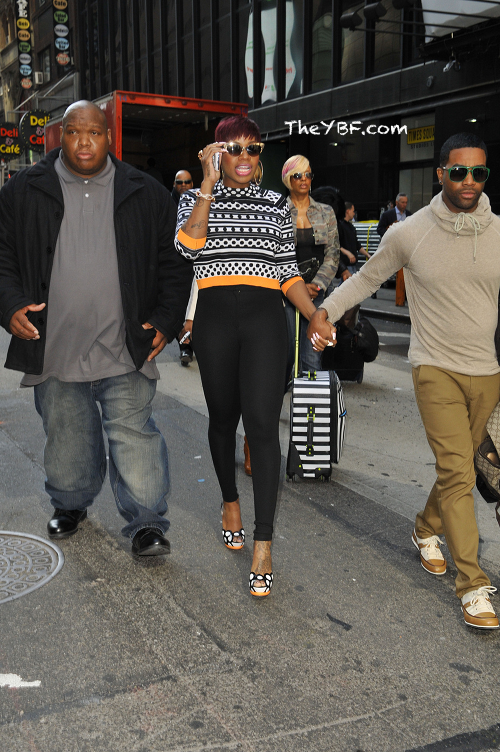 This morning, Fantasia was spotted in Times Square where she taped a segment for VH1 and appeared on GMA.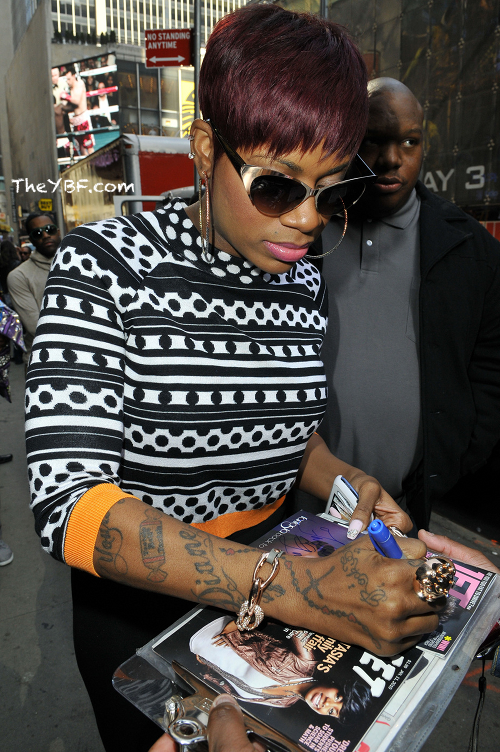 The singer was greeted by throngs of fans who celebrated this week's release of Side Effects Of You.
Fantasia has been in New York all week for a round of promo appearances. Tonight, she'll appear with Andy Cohen on Bravo's "WWHL" at 11EST.
Before her appearance on VH1's Big Morning Buzz Live...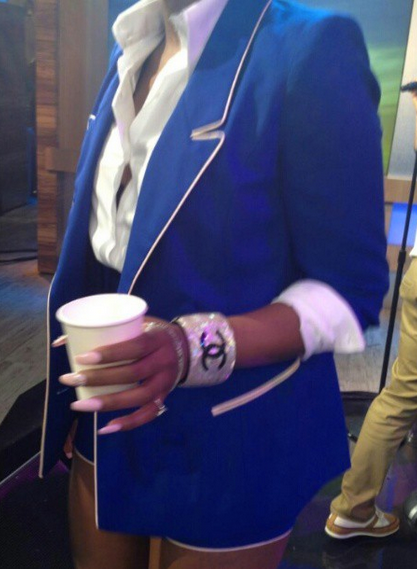 Fantasia went to Times Square Studios where she appeared on GMA. For the early morning gig, she opted for a blue blazer with white trim and a Chanel cuff.
And standing high in her Sophia Webster heels, she wowed the audience with her latest single "Lose To Win".
Watch Fantasia on "GMA" here:
BONUS:
Last night's, Fantasia performed "Lose To Win" at The Singersroom's LoveJonesNYC event. Prior to taking the stage, Fantasia was honored with tributes from R&B singers Joe, Kenny Lattimore and Yummy Bingham and gospel crooner Vashawn Mitchell.
Photos via Instagram/PCN
EVENT FAB: Miguel, Frank Ocean, Justin Timberlake, Christina Aguilera & MORE At The "Time 100 Gala" + Vanessa Williams & Cuba Gooding Jr. At "The Trip To Bountiful" OPENING Night
Posted: 24 Apr 2013 09:03 AM PDT
The "Time 100" Gala was held last night, honoring Miguel, Frank Ocean, Shonda Rhimes and others who made the list of the world's most influential leaders. View pics from the event inside and see Vanessa Williams and Cuba Gooding Jr. on the opening night of "The Trip To Bountiful."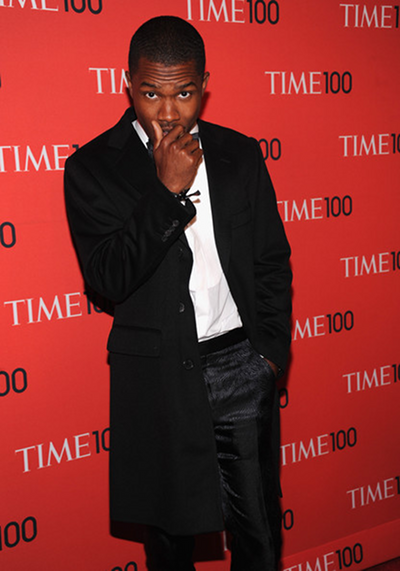 Last night, Frank Ocean (shown atop with Justin Timberlake) was among the celebs who celebrated being chosen for the Time 100 issue, which lists the world's most influential artists, politicans and newsmakers.
Held at Jazz at Lincoln Center, Frank walked the red carpet with his lovely mother Katonya Breaux Riley.
When asked how he felt about being included on the list, Frank told MTV News, "Pretty cool. The whole list is pretty rad, a pretty good assortment of folks. A very varied assortment of human beings in all different spaces and cool, very cool."
Miguel, shown atop with Christina Aguilera, was also on the list of the world's most influential leaders.
As famous folks like actress Amy Poehler celebrated his influence, Miguel told MTV News that he hopes to work with President Obama one day on projects that will influence families and American citizens. He said,
"...And I think family is, having a great family, or just two people in the family that help raise a child makes a huge difference on the kind of citizen they become and how competent a citizen they will be. And if there's anything we can do socially, economically or culturally to encourage that or affect that, that's something I'm interested in collaborating for."



Singer Raphael Saadiq, who made the "TIME 100" in 2012, attended the gala with Kim Porter on him arm (not THAT Kim Porter!).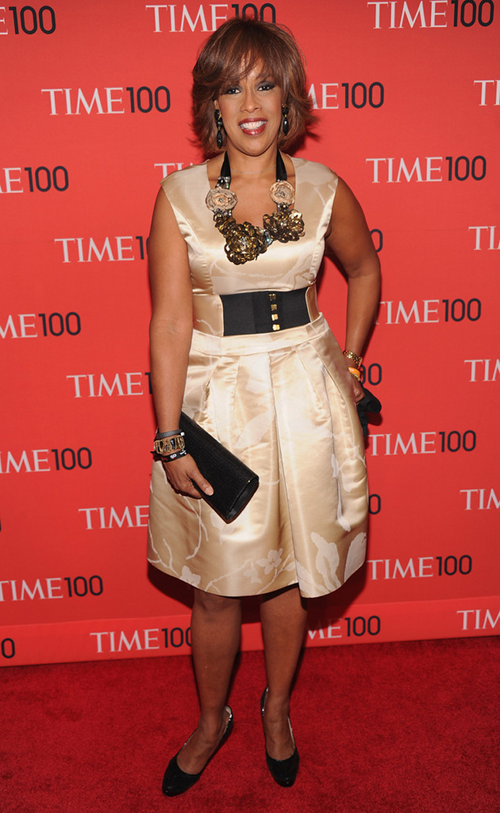 CBS Early Show anchor Gayle King attended the gala.
"Scandal" creator Shonda Rhimes was also on the 2013 TIME 100 list.
Senior Advisor to the POTUS Valerie Jarrett, who also made this year's TIME 100, looked amazing in her flowing blue gown.
Congrats to the honorees.
And over on Broadway......
The cast of "The Trip To Bountiful" celebrated their opening night last night.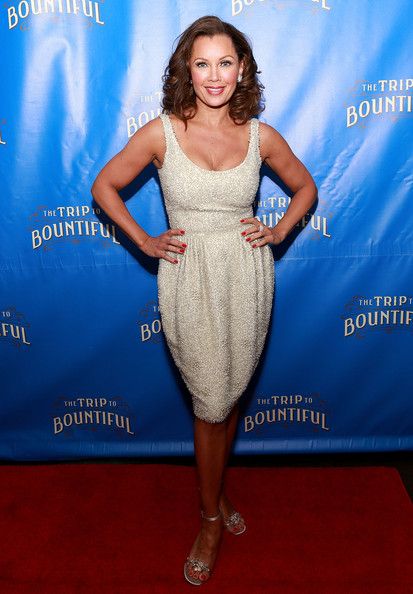 Emmy award nominee Vanessa Williams stars in the show which opened at Broadway's Stephen Sondheim Theatre.
Vanessa will share the stage with Oscar-winning actor Cuba Gooding Jr.
Academy Award nominee and Emmy Award-winning actress Cicely Tyson returns to Broadway, after a 30-year absence, for her exciting role in the play.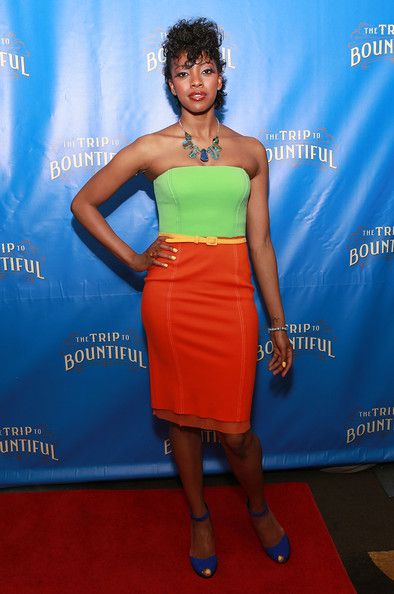 Tony-award nominee Condola Rashad, (the daughter of actress Phylicia Rashad and sports broadcaster Ahmad Rashad) also graces the stage.
Former "The Dukes of Hazzard" actor Tony Wopat also stars in the play.
The play is being produced by entertainment mogul Kevin Liles, who walked the red carpet with his lovely wife Erika Liles. When asked why he chose to produce the play, Kevin said, "I pride myself in always looking for opportunities to share enriching cultural experience with others."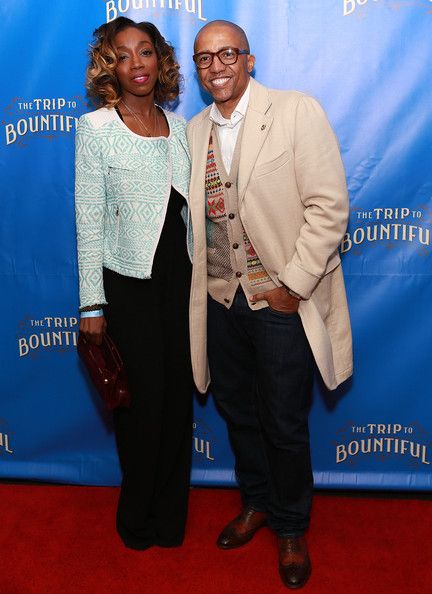 Kevin also posed with recording artist Estelle.
Photos via Jamie McCarthy//Robin Marchant/Getty Images North America